CENTRAL MINNESOTA SCHOOL OF TAXIDERMY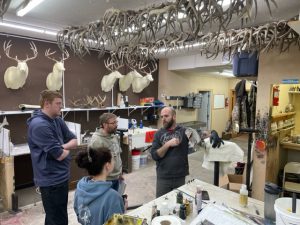 If you have been waiting to begin a career in taxidermy? Now is the time! It is the golden age right now post pandemic. Have you tried to bring something into a taxidermist lately? Wait times are now running 12 -18 months and a lot of taxidermists are not doing fish anymore because of the workload of other specimens. Prices are also reflecting workloads, they are steadily on the increase to stem the flow and volume of work coming through the door. In my opinion the pandemic we just went through has meant a lot of folks were tired of being pent up inside and so decided to spend it outdoors hunting and fishing and taxidermist are reaping the benefits right now. At our studio we are getting $850 a deer head and $800 a walleye and everything else is heading up as well. If you are interested in learning the art of Taxidermy, we can help you reach your goal! Whether you just want to do it for friends and family or open a full-fledged taxidermy studio!  We have been teaching for the past 20 years and some of our students have the busiest studios in the central MN area after they completed training in our taxidermy school.
We will teach you the methods of taxidermy on the following specimens Whitetail Deer, Fish, Birds, and Small Game. The most mounted animals in the industry nationwide!
We also will talk you through licensing within YOUR state to make sure you are compliant with the laws!
Cover learning tools and further education once you have completed the course.
Full list of tools needed to get your studio up and running. We also supply you with an airbrush which is needed on all specimens that are mounted.
We always have and always will provide ALL specimens and forms to our students when attending our course. You may provide your own but if you don't have any good quality critters, we have you covered.
You will receive 2 deer shoulder mounts (most students bring in their own antlers as it makes the mount more personnel), 4 fish, 2 birds, and one life size small game.
We do not have state funding for tuition. Tuition is $7500.00. (Beginning Jan 2024) Again, we provide the students with EVERYTHING they will need in order to attend.
Hours per class will vary but expect up to 4 hours a day. Time of the day class will be held will be set up with students but we like to begin around 1 in the afternoon. 
Generally, figure about 21 days to complete the course. We do NOT offer classes in the fall as our studio gets too busy with our customers specimens coming in. Give a look at our instructor's work page and see for yourself that you will be taught by those who know what they are doing!
Structured Class Schedule
Please see above Class Dates Tab for our updated schedules and how many positions are still available. We have a Winter, Spring, and Summer classes available. Most classes will be held on a 2-4 day week schedule. Call or email me and I can send you or text you the daily schedule. 320-393-2825
Species Specific Classes
We do offer species specific (SS) classes, for example if you want to only do deer heads, we can cater to your needs BUT we must cater to our full-time students first so SS classes will only be offered if there is room available. We have 4 work stations and if one or more are open we can then take on the SS individuals. We will know if we have any spots available 1 week out from beginning of class, what works best is to call us and get on a call back list and 1 week out from the beginning of class if there are openings, we will call you to see if you are still interested.
So, if you are interested in learning about one specific critter feel free to give us a call and get on the call back list and we will call you at the appropriate date.
Thanks John
320-393-2825 Central Minnesota School of Taxidermy
Job Placement
From time to time taxidermy shops from around the country and locally call us for referrals for those looking to work in the industry. We gladly send them our students contact info, if the student agrees, and some have gone on to work at some of the biggest shops in the country and also the local area!! Even Alaska!!
We encourage ALL to attend the first day of the full course introduction day as this is where a lot of industry questions are covered.
With demand for classes high we have added 2 positions to the attendance list. If you would like to sign up for either the Spring or Summer class 2023 there is now room available. 1 Spot for spring and 2 for summer. Call us to lock in your spot! 320-392-2825
We are also now filling 2024 classes
Some students do not want to learn all aspects of taxidermy and only want to learn one or two species. We can and do break it down to individual subjects. Below is the tuition breakdown for those classes. Again we provide ALL material and specimens. 
Below are current prices for species specific classes, all will increase by $250 starting Winter 2023.
WHITETAIL DEER…$2750.00  –  Estimated hours for Deer Class (2 deer) 22-30 hours.
BIRDS…$1750.00  –  Estimated hours for Bird Class (2 birds) 10-15 hours
FISH…$2250.00  –  Estimated hours for Fish Class (4 fish) 15-20 hours
SMALL MAMMALS…$1750.00  –  Estimated hours for Small Game Class (1 small mammal ) 11-15 hours
Please make tuition checks out to – Central Minnesota School of Taxidermy
View Video by Newspaper here – http://www.sctimes.com/videos/sports/2015/02/21/23793887/?cookies=&from=global
 Location of our studio…
310 West main St Rice MN 56367
Telephone 320-393-2825 call or text.
Email trailsendrice@gmail.com
 Taxidermy School Is  Located in Central Minnesota.
310 West Main St.   Rice,  MN   56367